.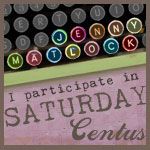 Happy Fourth of July weekend to my fellow Centusians and bloggy buddies and welcome to my contribution to week 61 of Jenny Matlock's Saturday Centus! As you probably already know Saturday Centus is Jenny's inspired literary dream-child which she graciously shares with us each week from her blog
off on my tangent
.
I am a day late joining in this week because I spent Saturday soaking up the deep-fried ambience of our local county fair. There, with massive corndog in hand, I studiously examined the many interesting exhibits and grade school art projects as the intoxicating aroma of livestock filled my senses. A day full of sensory delights to be sure!
The way SC works is Jenny gives us a prompt each Saturday morning, usually a written phrase but sometimes a photo, and we are assigned to write a short 100-word piece using that prompt. The rules of this meme state that the prompt cannot be split or altered in any fashion. Also vulgarity and photos or illustrations are not allowed except by special permission of Jenny.
Even heavily censored vulgar photos with black "censored" boxes over the various naughty parts will absolutely not fly so don't even attempt it. And you know who I'm talking to, don't you?
Writing with a maximum word limit of 100 words plus the prompt is a great way to learn how to write succinctly and be selective in your word choices. Plus it is always a lot of fun to face the challenge and complete it each week. After writing your story you need to link it back to Jenny's meme post so the rest of us can read it and enjoy your creative take on the prompt. Just click on the Saturday Centus button to see what other writers have submitted.
In honor of The Fourth Of July, our beloved Jenny has given us a prompt of "
Oh, say can you see
" to get our creative juices clicking on all cylinders. In a bit of a departure for me I have offered up a bit of verse this week as my contribution. What isn't a departure for me are the political overtones. I apologize in advance to any I might offend, but seriously if we don't stop this insane Republican power-grab our country is doomed! I have entitled this week's submission:
Democracy Under Assault
Oh, say can you see
What the hell's going on?
Betrayal in D.C.,
Is their sanity gone?
Evil men full of greed,
Such as John, Paul and Mitch,
Willfully deny those in need.
While giving billions to the rich.
They lie and promise a better future
Better yes, for their corporate masters,
While the rest of us share a different fate.
As they make our lives a disaster.
We need to vote out these buffoons
And end their power-hungry ascent.
America was meant for all to enjoy
Not just the richest two percent.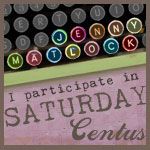 "A Tea Party group has a summer camp for kids, the only one where they sit around the campfire and tell scary stories about taxing the top 2%."
- Conan O'Brien