.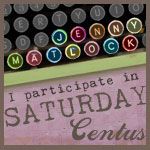 It's Saturday and I'm ready with my contribution for week 60 of Saturday Centus! Somebody pinch me because I think I'm dreaming! For once I'm not tardy to the party.
This week our beloved host Jenny Matlock from her blog,
off on my tangent
, has given us another interesting and challenging assignment. Instead of the normal 100 word limit for our short stories and poems, this week in honor of the 60th week of Saturday Centus we have a mere 60 words to work with.
I love these short, short writing assignments! They are so quick and easy and perfect for a busy Saturday morning. If that weren't enough, the prompt we were given to work with this week is "Dear John." What fun!

I've never personally received a "Dear John" letter, but imagine that it can carry with it a great deal of grief and sadness for the recipient (John). This is why I tried to write one as any loving girlfriend might to her boyfriend to let him know (with all the sensitivity and understanding that could be squeezed into 60 words) that their long relationship was now over.
Total FAIL.
Maybe I should leave the sensitive, touchy-feely stuff to someone more suited, such as our perpetually weepy House Speaker John Boehner.
Here is my contribution this week. I have entitled it:
The Letter
Dear John,
I'm leaving you.
I know we said we'd be together forever, but while you've been away in Iraq I've been seeing your best friend, Matt.
The truth is that Matt is smarter, better looking and will go far in life.
Plus, he will give me beautiful children.
I hope we can all still be friends.
Donna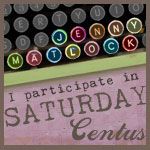 There is one thing I would break up over and that is if she caught me with another woman. I wouldn't stand for that.
~ Steve Martin