.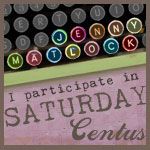 Greetings fellow Centusians and those of you who are Centusiastically inclined!
This post brings you my contribution for the 83rd week of Saturday Centus, that groovy literary meme hosted by the amazing Jenny Matlock (aka "the Exalted One") at her blog off on my tangent.
I missed out on posting a story last week (and broke my streak of SC's) but I'm back to start all over again with another of Jenny's masterful mental missions.

This week our Ms. Jenny has given us an interesting prompt from which to base our stories and poems. It is the number 16.
Oh, but wait! In true Jenny fashion we don't get off quite that easy.
Our stories have to be written about ourselves when we were sixteen.
What's more, not only does it have to be autobiographical, but our word count is - yes, you guessed it - sixteen words total!

Wickedly clever, Jenny!

In writing this post memories of that era (which I had long since repressed) came flooding back. Reluctantly, then, I am a bit ill-at-ease in recounting it now. Nonetheless, here is my 16-word piece about my sixteenth year, embarrassing as it may be. I have entitled it:
with bell-bottoms,
shiny shirts,
platform heels,
gold chains,
delusions of adequacy.