.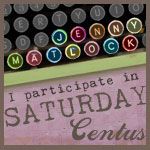 Hey Centusians and blog peeps! I wanted to dash off another quickee Saturday Centus this week and try and get my writing mojo working again. I've been so wrapped up in academia lately that it's been near impossible to post anything, but here goes.
This is week 103 of Saturday Centus, hosted by that brilliant bloggess of
off on my tangent
fame herself, Jenny Matlock. This week's meme challenge is to write a short piece using a total of 105 words including the prompt "
Not for profit. For comfort.
" Here is my effort for this week. I have entitled it:
For The Love of Babies
With a pitcher of sweet tea and a box of yarn at her side, old Hattie Benson would sing hymnals while she crocheted on her porch swing. Slowed by age and arthritis, she worked through the pain and finished three pairs of baby booties each day.
"Good morning Mrs. Phillips! And ain't it a blessed day?"
"Yes, it sure is Hattie. My, your baby booties are always so beautiful. I know you could fetch $25 a pair if you sold them instead of giving them away."
"No child, these booties are made for love, not for profit. For comfort to babies that needs them."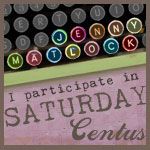 Not only am I redundant & superfluous, but I also tend to use more words than necessary.
.