.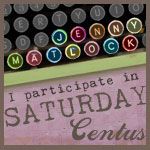 Here's my week 62 Saturday Centus effort, squeaking in just before the deadline. The prompt for week 62 from Ms. Jenny Matlock from her blog
off on my tangent
is "and the sign read..." Here is my 100 word effort for this week. I have entitled it:
Just Misunderstood
The neighbors on Spruce Lane said Mr. Mooney was crazy.
Wearing a thick wool sweater and neoprene shorts wasn't weird enough. He had to don the Pith helmet and ballerina slippers too.
His front yard revealed other clues that he was of unsound mind. Like the signs…so many signs! "Welcome to Thursday," "Free the Lemons," and "Fish Crossing," were among them. Another clanged against the rusted metal gate, and the sign read "Do not feed the grysbok."
Painting the trees with phosphorescent paint was definitely different too.
Yes, to the neighbors he was "Loony Mooney," but to me he was just Dad.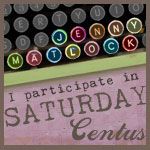 When I was little, my grandfather used to make me stand
in a closet
for
five minutes without moving.
He said it was elevator practice.
.