.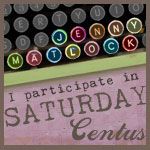 Well it's finally here, the 52
nd
week of Saturday Centus! It was one year ago that our illustrious host, Ms. Jenny Matlock on her blog "
off on my tangent
," first began her Saturday Centus meme. Now a year later and with thousands of fans all over the world, it has become an iconic symbol for really short, short, short story writers everywhere.
I meant the stories are short, not us Centusians, although some of us are probably around five feet tall or so. Not that it really matters, though. Truman Capote was short, and he was a great writer. So were Margaret Mitchell and Alexander Pope for that matter. I guess what I'm trying to say is that in the writing world, anyway, size just doesn't matter.
Boy, did I digress!
I'd love to say that I was with Jenny for that first Saturday Centus and that this week also celebrates my one year anniversary, but that isn't the case. I didn't discover Saturday Centus until week 2, but I'm happy to have been able to post a SC story each week since then.

Next week will my 52nd consecutive week of writing stories to these wonderful little prompts and photos Jenny provides us. It really has been a labor of love on so many levels and I'm so appreciative to Jenny for making it all possible.
You need to pop on over to Jenny's SC meme post this week to read the sweet and touching story about how Saturday Centus came to be. It's really a wonderful story and a real testament to the kindness and creativity of our beloved Ms. Matlock. Just click on the Saturday Centus button and it will take you there!
In observance of this very special occasion, Jenny has given us a prompt which is very apropos. This week we are to add our 100 words to the line
"Although the traditional gift for a first anniversary is paper..."
The rules are the same except this week Jenny has graciously allowed us to add a picture to accompany our story. Here is my story for this week. I have entitled it:
"Happy Anniversary Darling," Jeff said, handing his young wife an envelope.
"But our anniversary isn't until Saturday…I haven't gotten you anything yet!
"I know. It's all handled. Although the traditional gift for a first anniversary is paper, I wanted to make this year very special. You are going to a fabulous concert by your favorite artist!
"Justin Bieber?" No way! I'm so excited! I love, love, love Justin Bieber!"
"I know, I know!"
"Wait. There's only one ticket in here. Aren't you coming with me to the concert?"
"Well, no I'm not. And that's your present to me. Thank you, honey!"