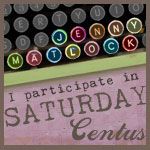 Happy Thanksgiving!
Yes, it's time to loosen those belts once again and bravely and unashamedly go for that second piece of pumpkin pie. For week 81 of Saturday Centus our gracious hostess, Ms. Jenny Matlock of her blog,
off on my tangent
, has given us a Thanksgiving-themed prompt from which to base our stories and poems.
This week's prompt is "We gather together to ask the Lord's blessing." All you need to do is write these eight words plus another 100 of your own words and post your contribution to Jenny's meme post so we can all share in your festive take on the prompt.
Here is my story for this week. I have entitled it:

Mom's Meatless Thanksgiving
"Mom, don't embarrass me. Lissa worked really hard on Thanksgiving dinner. I don't want you to spoil it for her."
"But where is the turkey, sausage stuffing, and giblet gravy?"
"You know she's a vegetarian, Mom."
"Yuck! Are we eating that brown goop and that green slime? "
"Behave yourself! There's Tofurkey, creamed spinach, pesto with kelp noodles, baked celery, Brussels sprouts, organic hemp milk, and whole wheat dinner rolls."
"Can we go? Suddenly I'm not hungry."
"Shhh! David is saying grace."
"
We gather together to ask the Lord's blessing
for these gifts we are about to receive."

"Um..not me!"

"Mom!!!"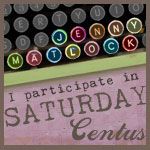 "Thanksgiving is the day when you turn to another family member and say, 'How long has Mom been drinking like this?' My Mom, after six Bloody Marys looks at the turkey and goes, Here, kitty, kitty."
.
- David Letterman