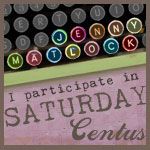 Thank you for stopping by for this week's round of Saturday Centus, a themed writing meme hosted by Jenny Matlock at her blog,
Jenny Matlock ...off on my tangent....
Every Saturday she posts a "prompt," a phrase that must be used in the essays of each contributor. Each story must contain the prompt as written and be a total of 100 words or less, not including the prompt words. You have all week to submit your essay so don't stress! One thing though, you can't use any vulgarity in your story. I know, that totally $@%&!!
After posting their stories, the writers link up with Jenny's Saturday Centus meme post so that we can all share our treatment on the prompt. Stop by and visit! There are some amazing stories already posted, and at only 100 words long, they won't trouble your ADD one bit!
This week I opted to avoid the grisly task of chopping my baby (or what some refer to as "editing") by instead taking the prompt and one or two key words and building the story around them. Instead of chopping my baby, I gradually expanded it until it reached the 100 word limit and stopped. Let me tell you, it was much easier blowing up my baby than it was chopping my baby.
Of course that probably had a lot to do with the crucial key words I chose to focus my story around. For this week's contribution, I started with the prompt and the words "the" and "her" and the story basically just wrote itself. You should try it! For my next story I am thinking of doing a 15th century historical piece set in Scotland focusing around the word "skyscraper."
There I go again, off on my tangent! (Sorry Jenny, it had to be done.)
The author of this week's prompt is Jeff Campbell of the wildly imaginative blog,
Tennessee Mudbug
. Thanks to Jeff for lending his creative flair! You certainly didn't make it easy on me.
Here is this week's prompt:
"Did you notice Elizabeth in class this morning and how forlorn she seemed?" Perhaps I will write her a comforting note, I thought.
Here is my effort this week. I call it
"Gilbert And The Giant Psychotic Space Penguin From Planet X."
Eek, too long! I'll just call it:
A Love In Limbo
She sat frozen on the bench outside the library staring out into space, not even reacting as the lunch bell blared above her.
Jenny motioned to her and sighed,
"Did you notice Elizabeth in class this morning and how forlorn she seemed?"
Perhaps I will write her a comforting note, I thought.
Ah, but I knew her sadness was deeply rooted and no mere words could change that.
It had been six weeks since Trevor had mysteriously disappeared. By now, most had assumed the worst and moved on.
But not Elizabeth.
Her love for him was unwavering, and she would wait forever to hold him in her arms once again.
In her heart, she knew that he would return someday.
Until then, all she could do was pray that her little Yorkie was somewhere safe.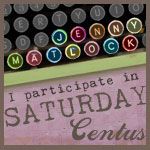 Hey buddy, you got one hundred words to spare?