Well I'm back again, this time to post more Saturday Centus 100 word (106 actually) silliness for week 138 of this fun writing meme from the creatively fertile mind of our dear Ms. Jenny Matlock from her blog, off on my tangent.
This week's assignment was to incorporate the six words "On the 13th day of Christmas" into our written pieces, which must be in the style of song lyrics. This week's tardy submission is called:
On the first day of Christmas
My girlfriend gave to me,
A dead squirrel in a tree.
On the second day of Christmas
I couldn't believe my eyes
her outstretched palm held
On the ten days that followed
the gifts were just as weird:
On the thirteenth day of Christmas
She was clearly mentally ill.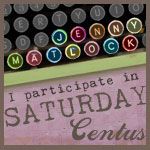 I wrapped my Christmas presents early this year, but I used the wrong paper. See, the paper I used said 'Happy Birthday' on it. I didn't want to waste it so I just wrote 'Jesus' on it.

Demetri Martin
.