.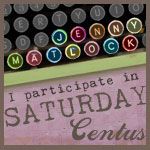 Welcome to my contribution to week 63 of Saturday Centus. Our wonderful host for this fun meme, Jenny Matlock from her blog
off on my tangent
, has decided to do a little shake-up this week. Instead of the usual 100 word limit, we are to use only 25 words this week plus the prompt which is "I'm not getting any younger."
As if 100 words wasn't hard enough! Thanks Jenny for a fun prompt and for challenging our creativity once again! Here is my teeny-tiny effort for this week. I have entitled it:
Trouble In Paradise
"Aaugh!
I spend hours getting pretty for you, but you don't care.
I'm not getting any younger, Charlie."
"Or thinner!"
"I'll kill you."
"Just get me a beer first."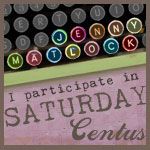 The four most important words in any marriage...I'll do the dishes.
- Anonymous.