.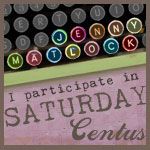 This week's Saturday Centus is all about me!
That's right! For week 94 Jenny Matlock, our hostess with the plentitude, has made this week's assignment autobiographical. Regular visitors to this blog will remember that Jenny hosts this weekly challenge at her blog, off on my tangent, and that we are typically given 100 words plus a supplied prompt to create a story or poem.
Not this week though.
In something she labeled as "Autobriefagraphical" Jenny has chopped our word count so small you can count them on two hands (one hand if you live near a former nuclear test site.)
Six words, people! Can you imagine describing your life with six words? I mean you really need ten or twelve words to do a respectable job now, don't you?
Here is my effort for this week's Saturday Centus. Those of you who know me will understand. I have labeled this week's six-word epic "Tom's Story."
Looking at life through Groucho glasses.
I'm writing an unauthorized autobiography.
- Steven Wright