.
.


This is my literary contribution for week 175 of Jenny Matlock's Saturday Centus. Like the previous week's assignment, our assignment this week is to write a 100 word story or poem using a one-word prompt that we cannot use in our written efforts. This week that prompt is "Ethereal."
I have labeled my effort for this week,
Missing The Point

Earth.
Like a summer wind, this little blue orb is pushed along the blackness of space on misty white celestial tendrils.
A shining silver maelstrom hangs in the sky above us, its outer arms enfolding us in its spinning clouds of interstellar gas and dust.
Silently and peacefully it drifts across the vast, icy cosmos under the watchful gaze of a disgusted alien overlord upset with humanity's poor choices.
"Such fools are these that poison and destroy their own planet in the name of greed."
He shifts his gaze to another part of space.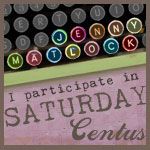 ,