.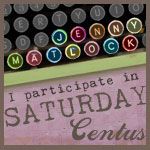 Greetings fellow lunatics and welcome to my blog, Sophisticated Lunacy. Thank you all for stopping by and visiting. As I have the last 41 weeks, I am pleased to participate in week 43 of the Saturday Centus, that fun-filled writing meme hosted by Arizona's own version of Erma Bombeck, Jenny Matlock, from her blog
off on my tangent
.
Writing a Saturday Centus is a fun literary exercise intended to challenge you to create an interesting story in 100 words or less, not including the supplied prompt. Each Saturday it brings together great writers from all over the globe to share the experience of selecting just the right words in just the right way to create tiny glimpses of life that are sad, funny, profound or whatever the writer has in mind.

After posting to Jenny's meme we all read each other's contributions and give our feedback. It's like an online version of the Algonquin Round Table, only without the booze. Well…usually.
The rules are simply no more than 100 words excluding the prompt, no splitting the prompt, no photos or illustrations and no vulgarity. Oh, and I'd like to suggest one more rule for your consideration. No batcrap crazy celebs like Charlie Sheen spouting nonsense like "I've got magic and I've got poetry at my fingertips." Sorry Charlie! We Centusians have to have some standards you know.
By the way, Lindsay Lohan, you can stop begging to be a Centusian too. It didn't work for Paris Hilton or Snooki and it won't work for you either. Get over it.
This week Jenny has offered up a nice, normal prompt that is devoid of some of the more challenging trappings of previous week's prompts. She swears there are no tricks, no hidden agendas, no "Oh, and by the way" surprises to twist and contort our minds this time.

Very clever, Ms. Matlock, giving us this false sense of security and then BAM! You hit us with "just make it a positive message that we can all relate to." Okay, so you didn't actually say that, but I can read between the lines. Hah! You have to get up pretty early in the morning to fool me…at least before 10:30am.
So with this in mind I have taken this week's prompt, which is
"The ATM machine began dispensing twenties..."
and fashioned a tale that does just that. I have entitled my little story this week:
Helping Others Is Not Always A Bad Thing
The morning began with a text from my literary agent. He said there was a huge offer for my first novel.
"Good," I replied.
I passed by a bank in my new BMW convertible when suddenly the ATM machine began dispensing twenties. As this was clearly a divine act, I thanked the Lord for the cash and left.
I saw an old homeless man digging through trash cans. A feeling of warmth and joy washed over me as I knew exactly what to do.
"Hey old guy," I said. The ATM over there was spitting out free money.
C
heck it out!"
It felt good to help.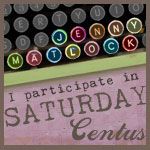 Support bacteria - they're the only culture some people have.