.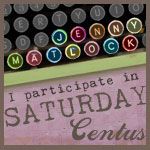 It's Saturday at long last!
On Saturdays I always go to Walmart to stock up on necessary provisions - usually a 24-pack.
Then I think intently about mowing the lawn before finding a reason not to (ie. radiation exposure, alien abduction, anything on TV, etc.) and then I take a shower whether I need one or not.
But my favorite Saturday activity is Saturday Centus, a weekly writing meme hosted by the beloved Queen of Centusia herself, Jenny Matlock at her blog,
off on my tangent
.
This is week 47 of Saturday Centus. Every week Jenny gives us a prompt to include in a short story or poem with only an additional 100 words. It's a quick and fun writing exercise that really gets your creativity fired up.

The only rules are: keep your word count to 100 words maximum not including the prompt, no vulgarity, no splitting or altering the prompt, and no pictures or illustrations. It's a fun challenge and an opportunity for all us Centusians and wannabe writers to practice our skills each week.
This week our dear Jenny has upped the challenge a notch by making this week's Centus a poetry assignment, the rhyming kind of poetry, more akin to Dr. Seuss than Elizabeth Barrett Browning. As for our prompt, she has graciously gifted us with the line " I'm not a chicken." So all of you out there in blogland play along this week! Stir up your creative juices and get your rhyming on! This will be a fun one!
Okay, let me just say for the record that poetry and verse is not my bailiwick. I enjoy reading it, but writing it is WAY out of my comfort zone so please be kind! Here is my contribution for this week's Saturday Centus. I have entitled it:
What Am I?
Twenty Questions was the game,
Who would deduce my animal name?
Friends Jen and Kat and Sue would guess,
But only one would find success.
Was I a lion, a kangaroo or a pig? No way!
You'll have to do better to win today.
How about a monkey, a hippo, a zebra or giraffe?
A blue-footed booby?
Now you're making me laugh.
No, I'm not a chicken, a mouse or even a cow,
A few more guesses is all I'll allow.
Am I a horse? Yes, of course! You win, hooray!
Thanks all for playing, now have a great day!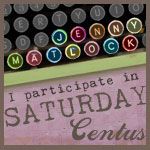 "And what will you do when you grow up to be as big as me?" asked the father of his little son.
.