.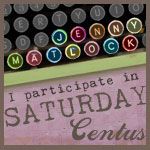 We've arrived at week 56 of Saturday Centus, that madcap literary free-for-all where writers of every ilk convene each Saturday to get the prompt for their weekly writing assignment.
Hosted by Jenny Matlock at her blog
off on my tangent
, we are challenged to write a short story or poem using the prompt as given and no more than 100 words not including the prompt. Sounds really easy, doesn't it? But coming up with a story and trying to develop it within the confines of only 100 words is more difficult than you might imagine.
You reach your word limit before you know it. (106 words.)
See? It's not so easy! If you want to stretch your brain a bit and give it a go, you are welcome to try it and then post your link to Jenny's meme post to share it with your fellow Centusians this week. The only rules are keeping it to the 100 word limit, no vulgarity, no pictures and no altering the prompt.
Give it a go and have some fun with us this week! In honor of Memorial Day Jenny has given us the prompt,
"The legacy of heroes..."
from which to base our stories or poems. I have entitled my contribution this week:
Gone But Never Forgotten
Fred never knew his older brother, Jay, a WWII pilot who was shot down during a mission over Stuttgart, Germany.
On his 65th birthday he decided to travel to Lorraine Cemetery in France to visit Jay's grave.
Countless rows of white crosses stretched out before him on that hazy autumn morning. Tears streamed down his cheeks as he made his way through the thousands of graves guided by an unseen hand.

Incredibly, he stopped and fell to his knees before Jay's grave.
For some, the legacy of heroes was freedom. For Fred it was a terrible void that would never be filled.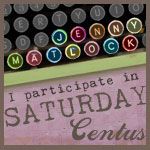 The legacy of heroes is the memory of a great name and the inheritance of a great example.
— Benjamin Disraeli
.