.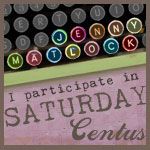 Happy New Year!
Another new year and another new week of Saturday Centus! I tell you, does it get any better, people? Yes, of course it does, there could be free chocolate too! For a Centusian, though, the opportunity to transform a blank page into a literary work worthy of posting for public view is all the satisfaction we require, with or without the chocolate. Right, Robyn?
Okay, so that topic is still open for debate.
We are at week #35 of this wildly popular and world renowned writing meme hosted by the high priestess of short, short story writing, Jenny Matlock, at her blog,
off on my tangen
t. As the first Saturday Centus of 2011, I think it is a good idea to start off the year on the right foot. Whatever witless comments, extra-long posts and clumsy mistakes we made in the past are now distant memories because we have a clean slate and new chances to get things right moving forward.
The rules of this fun writing exercise are to write a short story of up to 100 words using a supplied prompt (which isn't included in the total word count) without using any vulgarity, images (this week is an exception) and without splitting the prompt. After posting your contribution, you are instructed to link it to Jenny's meme post so that the rest of us can read it and share our thoughts about it with you. In keeping with the times, vulgarity will now be allowed in the comments section if deemed necessary provided that it is used in a complete sentence.
This week's prompt is
"Her crumpled up list of resolutions..."
I tried the whole New Year's resolution thing last year and failed miserably on almost all counts. If that lesson taught me anything it is this. Don't try. Yep, you stand a much better chance of not failing if you don't try. So this year I have no resolutions. None. Instead of following some old, contrived tradition of trying to address my shortcomings at the beginning of each year, I'm just going to let my lovely wife handle the job. She's a natural.
I want to point out that this story is a small milestone in my blogging career, my 100th post. Though I was much slower in getting to this point than most of you amazingly prolific bloggers, many of whom post daily or even put up multiple posts per day (all of which leaves me feeling quite humble) I am at least pleased to have at long-last cracked the triple digits. I need to recognize Jenny Matlock for her encouragement and for this meme which has resulted in a third of my posts! Thanks, Jenny! At some point I hope to post with greater regularity, but conditions being what they are I must remain noncommittal for the time being.
Here is my first post of 2011. I have entitled it:
A Gloomy New Year's Eve
Donna dreaded New Year's Eve.
It only served as a reminder of what a shambles she'd made of her life.
She had written out some resolutions - "find love, make friends, stop smoking, get fit" – the usual suspects.
Staring as coils of smoke rose up from her lit cigarette, she pondered whether she had the strength to get it right this time and escape the cycle of regret and despair.
In her mind she heard her mother's voice with the answer.
"No."
Sighing, she went to bed, leaving her crumpled up list of resolutions on the kitchen table.
Another holiday spent home alone.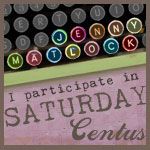 New Year's Day… now is the accepted time to make your regular annual good resolutions.
Next week you can begin paving hell with them as usual.
-- Mark Twain
.