.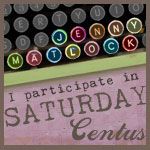 Welcome peeps!
Well, week 37 of Saturday Centus has come upon us like snow on an orange grove and it's time once again to participate in a little writing! "Little" being the operative word this week as Ms. Jenny Matlock, host of this addictively fun meme from her blog,
off on my tangent
, has thrown us a challenging twist this week. Instead of the usual 100 word limit we have come to expect, this week our beloved Jenny has decided that 25 words is more than sufficient to craft a story filled with drama, suspense, romance and intrigue.
Okay, maybe the intrigue part is a stretch.
Personally I like the idea of micro fiction. I wish there were more publishers out there who appreciated the skill and talent required to write a complete tale with just a limited amount of words. Let's face it; a lot of people don't have the patience to read an entire book or even a short story. People want something they can zip through quickly, enjoy and then move on with the rest of their day. I am one of these people. I prefer to do my reading while sitting on the toilet.
Don't laugh! I bet a lot of people like to read while doing their business. There's even a very successful volume of books called "The Bathroom Reader" which have very small, interesting or amusing news articles, quotes and anecdotes which can be read quickly. I have a number of these books. But as far as fiction is concerned, there's not much available. Maybe we Centusians could get together and do a compilation of stories from SC and have them published? We could call them Toilet Books!
Imagine the pride you would feel knowing that your finely crafted stories are sitting on the top of toilet tanks all over America, between the box of tissues and the can of air freshener (or between the can of bug spray and book of matches if you're from the South!) Think of the exposure you would have as a writer! A whole new genre of writers could emerge, Toilet Writers, and soon we could at last have a taste of the fame and glory that has eluded us.
Toilet writing could become the next great trend in the literary world. Libraries would have to install more bathrooms to keep up with the demand for more toilet reading, maybe even going so far as to install porta-potties where space permits. Writers of this genre who achieve great popularity might even be courted by toilet manufacturers to endorse their products. A toilet recliner with a built-in reading lamp could even be released for toilet readers with discriminating tastes in bathroom décor. The possibilities are endless.
And to think we owe it all to Jenny Matlock, who will now and forever be known as the "Mother of Toilet Literature." To be able to say that you were there at the birth and infancy of Toilet Literature kind of gives you a lump in your throat, doesn't it? Yes, surely it's a proud moment for all us Centusians.
Moving on to the story segment of my babbling, I have written a very short, short story that contains scenes of violence. For that reason, my twenty-five word story is rated PG. For those of you who do not wish to deal with the graphic reality of everyday American life, you may click on
this link
instead and be comforted by images of puppies, kittens and soft, fuzzy bunnies.
This week's prompt is "
the lottery ticket
."
I think I will give this tiny tale a tiny title and call it:


The Winning Loser
"Congratulations!
You're the winner?
No one else knows?
Here's a bullet.
Bang!
I'll take the lottery ticket and your life.
Fool.
Didn't anybody tell you?
Don't trust anyone."



"I have a great faith in fools -
my friends call it self-confidence."
- Edgar Allan Poe
.