.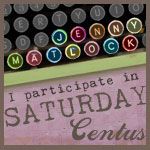 Welcome to yet another weekly installment of Saturday Centus, that wonderfully challenging and yet refreshingly brief literary meme hosted by none other than that superstar of the blog world, Jenny Matlock, at her blog,
off on my tangent
.
This week's assignment is yet another shake-up because usually we are assigned to write a story of up to 100 words (but no more than 100, or face the furious and unstoppable wrath of Ms. M) based upon a supplied prompt with the only other rules being no vulgarity, no splitting the prompt and no photos or illustrations. What is different this week is that our stories must be written within the sci-fi genre. Yes, sci-fi, as in outer space, time travel, alien beings, robots, futuristic technologies and the like.
I think it's marvelous! What an interesting way to challenge Centusians to step outside their comfort zones and write about a reality that includes huge interstellar space ships, extraterrestrial hedgehogs and giant robot TSA inspectors from the future. I definitely would like to see more of these shake-ups! Maybe we should do one that combined the dark and moody film noir style of the 1930's and 1940's with one that has brain-eating zombies. Oh, and make it a musical also! I bet we could pull that off easily with 50 words tied behind our backs too!
Just a thought. (Please leave your invective at the usual place.)
This week's prompt is
"Beam me up, Scottie."
My 100 word take on it follows. I have entitled it:
To Go Where Everyone Has Gone Before…
"Captain's log, Stardate 5732.4.
Our mission to save the planet Jen'Mat Lok III and destroy the loathsome creature known as the Srapal'n is complete."

*BEEP!!!*
"Captain, we received orders to proceed to Seti Alpha 6 immediately to bring medical aid to millions suffering from an outbreak of T'baaggah Fever."
"Seti Alpha 6…isn't that the planet known for its green-skinned dancing girls, Scottie?"
"No Captain…that is Seti Alpha 5."
"Sigh."
"Of course", chimed Scottie, "it IS on the way."
"Beam me up, Scottie! We have some humanitarian aid to deliver."
"Yessir, Captain. Dibs on the redhead!"
With apologies to Gene Roddenberry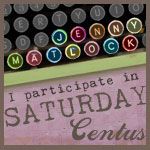 We are Centusians.
Resistance is futile.
.