.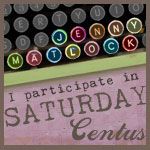 Another Saturday and another Saturday Centus…the 36th one for those of you who are keeping count until we reach the 100th week, which as you all know was foretold by the Mayan calendar and scholars as being the final Centus on Earth. But fear not because the Saturday Centus will survive.
Plans are currently underway to have a huge space station completed before that time so that the fabulous host of this jaunty literary meme, Jenny Matlock from her blog
off on my tangent
, can be blasted into space with a crew of hand-picked Centusians so that the Saturday Centus will survive the worldwide cataclysm to come.
Of course the blogosphere will be fairly sparse then, what with only a few blogs, but once word reaches other alien civilizations about Saturday Centus, we are sure there will be plenty of interesting stories to read and enjoy. (Just a suggestion, though. Try not to be negative in any comments to a Twartdackian blogger's post. They are sensitive and will hunt you down and vaporize you.)
If this week's post seems just a bit disjointed I should tell you I am struggling with a bad cold and can't be sure if the words spewing forth from my mind might be tinged with the effects of the medication I have been taking. How does the old adage go again? Starve a cold and feed a fever? My own personal motto goes like this: "Drink plenty of scotch."

Although drinking scotch is doing very little to allay any of the symptoms I'm suffering with, I've found that drinking scotch as a preventative measure to becoming ill has a high percentage of success. The same can be said of eating Twinkies. This routine has probably saved me months of sick time over the years. Could scotch-flavored Twinkies be our salvation from the common cold? Perhaps. Time will tell.
This week Ms. Jenny (who I would just like to state for the record is not flatulent but has a dog that is….why I feel the need to bring this up I have no idea) has shaken the firmament here in Centusianland once again with another twist for us to wrap our collective minds around. Instead of a written prompt, we are given this photo from which to base our short, short stories on.


Our instructions are to write a short story of 100 words or less (unless of course a muse tells you otherwise) with no vulgarity (or as little as you feel you can possibly do, written or implied, given the situation) and without any photos or illustrations (except for the one we are supplied by Ms. Jenny) and post it to her meme post within a week's time. Once posted, other Centusians and fans of this succinct writing style can congregate and read your stories and give you their feedback.
This week I admit I'm pushing some boundaries in my story. It's true that it could be considered in bad taste and that I did nudge past the word limit a little (I'm so not worthy of being a Centusian!) but it was unavoidable. When your muse tells you to write something or face total creative meltdown, it's wise to just go with it and let the chips fall. So I apologize in advance to anyone who gets offended by this piece due to its vulgar nature, although I did utilize the word "bleep" in lieu of the actual words in a half-hearted attempt at trying to be sensitive to the feelings of others.
This week's Saturday Centus effort is entitled:
A Tender Bleeping Jersey Moment
Vacationing in Florida, a father and his young daughter stroll through a snow-covered orange grove.
"Daddy, what's with the *bleep* snow on these oranges? We get enough *bleep* snow in Jersey."
"*Bleep* but that's a stupid question. You're really retarded, you know that?"
"So what are we doing here anyway? This don't look like no *bleep* fun."
"Memories. This is where I first *bleep* yo' mama and got her knocked up wit you."
"That's *bleep* gross. That still doesn't tell me why there's snow on these *bleep* oranges."
"*Bleep* where do you think frozen orange juice comes from? Sometimes you are such a *bleep* idiot, Snooki!"
**Readers familiar with American popular culture will hopefully recognize the reference to Snooki, an orange-skinned, foul-mouthed little troll a reality TV "celebrity" who appears in the popular television show, "The Jersey Shore."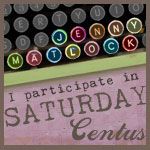 Please post complaints in the comments section
and be brief as space is limited.
.