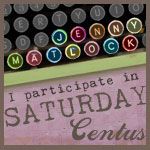 Hey Centusians and wannabe Centusians, it's Saturday and that means another Saturday Centus! Yay!
Who's the leader of the meme that's made for you and me,
J -E-N, N-Y-M A-T-L-O-C...and a K!
(Yeah, I know, that bites...I'll work on it)
Welcome to another rootin-tootin literary love-fest of writers and readers and people who just like to look at the pictures and drool on the keyboard.
(Ooooh! Look at the pretty colors!)
This is week 68 of this fun and challenging writing meme hosted by Jenny Matlock at her blog, off on my tangent. Every Saturday you are invited to stop by Jenny's blog and submit your own story using her supplied prompt.
The rules are that you have to keep it to the specified word count, no pictures, no dirty words and no splitting the prompt. So why not play along? You have a whole week to link up!
This week our Ms. Jenny is feeling quite generous and is allowing us a whole 150 words plus the prompt for our stories. Usually our word count is 100, but lately they have been 50 or fewer, so this is definitely exciting for us Centusians. In fact you could say we are "Centusiastic" about this weeks word count!
*crickets*
Well, anyway, this week Jenny has given us a prompt that is sure to inspire some interesting stories, maybe even some funny ones, though I kind of doubt it. This week's prompt is "If I die young." I am more than a bit curious about how the other Centusians are going to spin this one this week!
Click on the button and read all the other submissions this week. They are a quick read and probably not as depressing as my entry this week which I have entitled:
A Soldier's Letter Home
Dearest,

This world is a violent place. Whether one is a soldier or a child in the suburbs, there will always be those who wish us harm. Every day can be a last day

My good friend Bill was killed today when his convoy was struck by an IED. He was 25. He left behind a wife and baby daughter.

I tell you this not to scare you, but to share with you my wishes for you and our son Tommy should the worst happen.



If I die young

, carry my memory as you would a song in your heart; a love song that reaches through the clouds to touch your soul.

Pass on my hopes and dreams to our son that he may claim them for his own if he wishes.

Finally, never forget how loved you both are and how blessed I am to have such an amazing family.





Love Always,




Wayne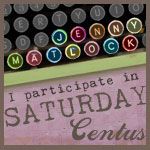 If ignorance is bliss...then why aren't the Tea Partiers and right-wing extremists happy?
.