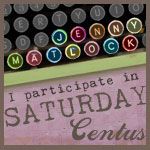 .
Ahhhh, it's week 44 of Saturday Centus. And I finally have something new to contribute. Yay me!
(High-five!. Myself! No friends!)
Yes, I know Satuday was days ago and most of my Centusian brethren have long since written their stories and collected their kudos for reaching deeply into their creative minds and pulling out yet another literary gem. Not me. I'm late to the party again. Academia hath struck once more and pushed my timetable forward to more of a Thursday Centus than a Saturday Centus, but that's okay.
Ms. Jenny Matlock, the fine host of this fun little meme from her blog,
off on my tangent
, allows us a whole week to come up with something to post here. Even if it's really rushed and terrible and pales miserably in comparison to the others. I don't care. This week is my final exam so I'm guessing I'll be late again. Oh well. Jenny doesn't care. She loves us all the same...even if we are ...um...slow.
Jenny's prompt this week is
"
Everything depended upon this single card."

Here is my 100 word attempt at trying to pull something off at the last minute. I have entitled it:
Unlucky At Cards
With a lousy job, no money and hair falling out, I knew I needed help, so I sought answers from Madame Zarah.
A beautiful, dark-haired gypsy, I trusted her to tell me the truth. Shuffling the tarot cards, she placed three face-down before me representing my career, my wealth and my health.
She flipped the first card over.
"The Tower…Is it a promotion?"
"No. It portends downfall and disaster."
She flipped again.
"The Wheel of Fortune…I'm rich?"
"No. Misfortune awaits you."
The last card…was I doomed? Everything depended upon this single card.


She flipped again.
"Death."
"Sorry, Tom. I'll miss you."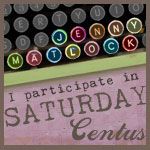 Don't use a big word where a diminutive one will suffice.
.