.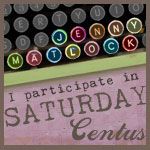 Another week has passed and it's time once again for another foray into the realm of literary succinctitude. (You don't think that's a word? Feel free to refudiate me if you wish.) This is week 46 of Jenny Matlock's Saturday Centus, that challenging writing meme that has all of Spunky Puddle, Ohio blowing spit bubbles and screaming obscenities at trees. In case you didn't know, this is considered very high praise in Spunky Puddle! Plenty of other people also love this weekly writing exercise hosted at Jenny's blog,
off on my tangent
. They just show it in slightly different ways.
So I bet you are wondering, "Hey Tom, how can I become a Centusian like you and participate in this fun-filled meme?" Good question! All you have to do is write a really short, short story of no more than 100 words not including the supplied prompt. Your story can't use any vulgarity or include any photos or illustrations of any kind and you are not permitted to alter the prompt in any way. After posting your story to your blog, link it back to Jenny's meme post so the other Centusians can share in your obvious dementia and pray for your eternal salvation.
This week's prompt was a simple three-word phrase without any tricks or gimmicks of any kind. Maybe next week Jenny will begin challenging us again with her
evil genius
creative twists (ie. from the perspective of a Russian dancing bear, extremely lonely TSA agent or a sentient potato.) This week's prompt is
"the curtain parted."
Here is my take on the prompt. I have entitled it:
Memories of Grandpa
As a kid I remember spending one summer with my Grandpa Steve in Oregon. He loved it when I would sit at his bedside and read him stories. Problem was he had a hearing problem which made it challenging.
"She adjusted her crown and stood ready."
"Who's Freddy?"
"Then the curtain parted…"
"What? I don't smell anything."
"…and the fans roared with applause."
"Eh? Snored with the bras?"
I suspect grandpa heard a lot better than he let on. He just liked to bust me up and break my concentration. Funny old guy…I want to be just like him someday.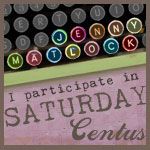 I'm going to start thinking positive, but I know it won't work.
.