.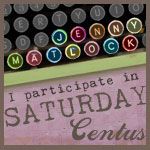 It's week 45 of Saturday Centus and time once again to try and string together 100 words in some semblance of order so that they make sense to a reader. It's a bit of a mental ball-buster, but it gets even more challenging when you have to incorporate a supplied prompt into the mix as well. Well, then it just gets nearly impossible! But then again I routinely do the impossible, like when I ate an entire big screen TV or the time I played golf and shot 18 consecutive holes-in-one.
Hmmm. I sense that you don't believe me. Would you believe I ate a whole pound cake shaped like a big screen TV and watched a hole-in-one video 18 times? It's practically the same thing.
There I go...off on my tangent. Speaking of tangents (note cleverly disguised segue here), this wonderful Saturday Centus meme is brought to you each week by an amazing writer and just overall fabulous human being, Jenny Matlock, at her blog "
off on my tangent
."
If you haven't already become a Centusian, what's stopping you? It's free and nobody will think any less of you for participating. Well, except for the French, but who cares about them anyway. So try it! It's addictive so it must be good for you!
You all know the drill I'm sure. Write a story using 100 words not including the prompt using no vulgarity or pictures and without splitting the prompt. Then link it back to Jenny's meme post and sit back and wait for the book deals to pour in or comments from fellow Centusians, whichever.
This week Ms. Jenny has given us the prompt "He had never been accused of being intelligent..." to use in our stories. With so many dimwits running around, particularly in the political arena, it seemed the possibilities were endless, but alas with only 100 words I couldn't lay some smack on all of them as I am wont to do. Instead I thought of a different approach to get my message across. I have entitled this week's contribution:


A 30-Second Political Ad
"Fox News said elect Jim DeMint because they know what's best for us here in Toombs County.

True, he had never been accused of being intelligent, but folks 'round these parts ain't partial to brainiacs anyhow.

So what if some called him crooked, racist and crazy?

Jim's just a good ol' boy like us.


He will fight to the death to defend our freedom and keep God, guns and our way of life from being taken over by a bunch of whiny liberals and their Muslim leader.

How you gonna vote agin him fer that?
So join me in taking back America!

DeMint for President!"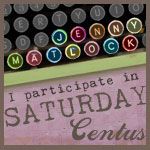 I'm not under the alkafluence of inkahol that some thinkle peep I am.