,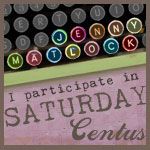 It's week 31 of Saturday Centus and I'm so ridiculously late to the party that I almost decided to opt out and just wait until tomorrow to start fresh with the next week's assignment. Then I considered the horrific consequences of not posting a Centus this week.

First, it would mean breaking a streak of weekly posts going back several months. Second, the cries of disappointment from my legion of fans (I'm pretty sure 5 is a legion) would be too much to bear. Lastly, I would likely be cast out of the Centusian bloggerhood and be forever denied all the lovely perks and benefits afforded therewith.
No, I decided I couldn't live like that again. My life as a Centusian was too good and I could neither go back to the dark days before Centus than I could remove any trace of humanity from my soul and vote Republican. Nope, not in this lifetime! I am writing a Centus for this week if it is the last thing I do! True, it may be just awful, but at least it will be done and I won't have to worry about losing my membership in this most prestigious organization.
For you literary neophytes out there who have yet to experience the glory that is placing electronic quill to electronic tablet and conjuring up tiny stories of 100 words or less based on a supplied prompt, the Saturday Centus is a themed writing meme that you simply must participate in. Brought forth into this reality during some rapturous epiphany by the incomparable Jenny Matlock at her blog,
off on my tangent
, it is a fun and challenging exercise in short, concise story writing.
Something I obviously know nothing about.
The rules include no vulgarity, no illustrations and no splitting the prompt. The prompt does not count in the overall word count. Violation of the 100 word limit is punishable by having the Centusians wag their collective pointer fingers at you while repeating "Shame! Shame!" After writing your story, you are asked to link it up to Jenny's blog post so that we can all share and enjoy each other's take on the prompt.
This past week has been the perfect storm of distractions from work, school and elsewhere, and I hope that almost missing my Centus deadline has scared me straight so that I can avoid being so tardy in the future. This week's Christmas-related prompt was a challenging one. Jenny gave us the line "the bin of tangled up holiday lights" to work with. Here is my just-in-the-nick-of-time-though-it-will-probably-still-go-widely-unread-but-what-the-heck story for this week. I have entitled it:
Grandma's Attic
Grandma Etta loved to save things.
With her passing, her grandson Joe was tasked with cleaning out her creaky old Victorian home.
Musty, but with a faint hint of rose water, the attic was a clutter of boxes containing memories now lost to the ages. A dim shaft of daylight guided him as he began sorting out which items to keep, give away or toss.
His eyes welled with tears as he opened up the box labeled "Christmas." The bin of tangled up holiday lights brought up so many wonderful memories.
For Joe, Etta was that one bulb that burnt out, leaving the string damaged beyond repair.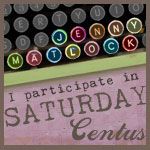 "I don't know what to say, so I'll just say
what's in my heart. . . Baboom, Baboom, Baboom."
Mel Brooks
.