.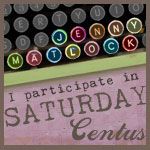 It's Hammer Time!
I mean it's Saturday Centus Time! (Almost the same thing, except the wardrobe doesn't include parachute pants.) It's time for us Centusians and wannabe Centusians to step up to this fun literary challenge hosted by the phenomenally creative Jenny Matlock at her blog,
off on my tangent….
Actually it was Saturday Centus time, oh…back on Saturday and now it's Wednesday and it's just a tad bit pathetic being the last hold-out Centusian to offer up my little 100 word snippet at this late date, but I have an excuse. I was really busy. (I guess the rest of you just sit around on your hands all week waiting for Saturday to roll around so you have something to do, right? LOL!)
This last week I started a financial accounting class and I think I may have uncovered a hidden passion I never knew existed! With all the reading and paper writing I've done in this class so far I've come to the conclusion that I was born to work as an accountant! No really! I mean, writing is okay, but wow…doing transaction analysis is just downright sexy! Plus, what better way to surround yourself with accountant groupies!
No wonder the chicks dig accountants. My professor is a CPA and he exhibits all the tell-tale signs that he is one of the uber-cool accountancy elite! As I watched him up there at the podium last night, I could see how the ladies were captivated by him and how they hung on his every word…sort of like that little blob of spit that hung on the edge of his lower lip but refused to release its hold.

Does he even know how much he is affecting them, I wondered. Oh, he must. Accountants are like James Bond, except they use a calculator instead of a gun. I want that! I want to manipulate numbers in various financial statements and have women fall at my feet with unequivocal adoration.
With great passion he described the gorgeous perfection that is an income statement as beads of sweat trickled unabated from his shiny, mostly-bald head. My female classmates stared as if in a trance as he mopped his brow, being careful not to disturb his carefully placed comb-over or bump his thick, horn-rimmed glasses.
Perhaps it was the way his skin-tight sweater vest caressed his pear-shaped body while his pocket protector strained against the light blue cotton/poly fibers. Maybe it was the way he finished every sentence with the word, "okay?" or how his shirt wasn't tucked in in the back. All I know is that accountants are the new rock stars these days, baby, so hold on to your audit forms and get ready for the awesome spectacle of month end closing!
But I digress. Sorry, but it's hard to focus on writing when your mind is fixated on balance sheets and accruals. Now I know what my brother Steve thinks about! And all this time I thought he was just dull. (Just kidding, Steve…you know I think stamp collecting is way underrated.)
As for Ms. Jenny's rules, you all know them…100 words only not including the prompt, no cuss words, no pictures and no splitting the prompt. Other than that you can go total ape-stuff and write whatever and however you want. You can even write rambling intros that have nothing whatsoever to do with the story if you are so inclined. You've got a week to post it to Jenny's meme post so that all of your fellow Centusians (and a few honorary Centusians) have an opportunity to read your story and leave you a comment.
This week's prompt is
"If I had a hammer…"
Here's my tardy entry into this week's literary stew. I have entitled it:
The deceased, a 54-year-old black woman named Jeannie Perkins, was just the latest casualty of domestic violence to arrive here at the Shelby County morgue.
The report suggested the cause of death was blunt force trauma which, looking at the fractured skull fragments and numerous round indentations, was hard to refute.
Of course finding the bloodied hammer beside the body was a pretty obvious clue as well.
But policy was that an autopsy must be conducted anyway, even with irrefutable evidence.
As he prepared the body he caught himself humming
"If I had a hammer..."
and winced in embarrassment.