.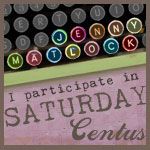 Here we are at the 24
th
week of Saturday Centus, that clever writing meme lovingly attended to by the queen of the blogosphere, Ms. Jenny Matlock at her blog,
off on my tangent
.
The concept is simply to write a 100-word story based upon a provided prompt. Of course there are rules, for we must have an orderly Centus or else the whole shebang could go catawampus lickety-split, if you know what I mean.
The rules, for those obliged to follow them, are to use only 100 words, not including those of the prompt phrase. The prompt must be used in its original form and cannot be split or altered. You cannot use any pictures or vulgarity in your stories, not even a naughty limerick! Finally, any Centusian audacious enough to include a long, rambling intro with their Centus effort must be punished by having large wads of cash thrown at them (preferably in $50 or $100 denominations.)
The subject of my tomfoolery this week is Halloween and the macabre fascination so many people have with participating in the age-old tradition of dressing up in wild costumes, hanging up gruesome designs on the walls and enticing small children to come to their door with candy amid scary recordings of torture and shrieking women.
Actually, it does sound like just another Saturday night for some people.

But all that aside, I do have a special fondness for this holiday and the wonderful memories that it has spawned over the years. I can't remember many from my younger, hedonistic days of course (unless you call waking up the next day on someone's front porch a memory) but I vividly remember the fun times spent trick-or-treating with my kids and the many cool costumes worn at the time.
I'm not sure what the popular costumes will be for this year's crop of candy-crazed moppets, but living in a progressive state like California (as opposed to some areas of the country populated by obstructionist Neanderthals, y'all) I'd expect to see some very creative outfits. Not content with the conventional costume choices such as super heroes, princesses, Transformers, pirates or vampires, I expect to see more original ideas here in my area.
I'm keeping a checklist at the front door so I can keep a tally of how many Glenn Becks and Rehab Lindsay Lohans we get. Also on the list are Tea Party Senate candidate Christine O'Donnell in a big, black pointy hat, Lady Gaga, oil-soaked pelicans, and of course, Snooki, the infamous guidette from "Jersey Shore."
Not to say that the rest of the country won't have a popular costume or two. I expect sales of the Hitler-mustached Obama and "Bone-in-the-Nose Obama" to be as popular in some areas of the country as the traditional pointy-headed ghost (with optional miniature flaming cross) is pretty much year-round down there.
Sometimes reality can be more bizarre than our weirdest imaginings.
Remember, all you Centusians, to post your story back to Jenny's meme post so we can all share in each others creative endeavors!
This week Jenny has given us a terrific prompt from witch to craft our trembling tails. It is:
"Trick or treat!" they shouted as the door opened.
And here is my creepy take on this week's prompt, which should definitely not to be read to small children. I have entitled it:
A Bloody Hallow's Eve
Halloween.
Eerie sounds.
Nightmarish decorations.
Children dressed up in ghoulish attire and roaming the neighborhood at night in search of sugary ecstasy.
But for three escapees from Westwood Asylum, the excitement of their sudden freedom had driven them to other, more sinister desires.
A light tapping on the front door was all they needed to begin tonight's bloodthirsty odyssey.
"Trick or treat!" they shouted as the door opened.
As they rushed the door amid Mrs. Walden's muffled screams, one of them blew out the candle in the Jack O' Lantern and turned off the porch light.
Just another dark house the children would skip over this year.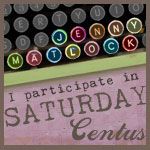 Join the Centusians.
You have nothing to lose but your soul.
Bwa ha ha ha ha!
.