.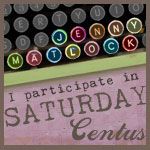 Here I go again, late out of the gate for this, the 25
th
week of Saturday Centus! My brain has been in a state of dysfunction (even more so than usual) while I struggle with illness this week. It's so difficult to think creatively when you are sick. For a writer they may as well call it Irritable Vowel Syndrome.
Even as I have tried my standard remedy of applying liberal amounts of Scotch to the back of my throat to drive out the evil spirits that are responsible for the coughs and congestion that have dried up my creative juices, my mental faculties are still not where they should be to properly participate in a writing exercise of this high degree of complexity.
Nonetheless, I shall give it my best effort. Don't hate me if I am a word or two over the limit, however. It's not me, it's the sickness!
For you newbies out there that may think Saturday Centus is some terrible malady to be suffered in silence, it is far from it. Not to be confused with Saturday Night Fever, which can now be treated with a special ointment from the pharmacy, the Saturday Centus is an imaginative writing meme hosted by that irrepressible literary genius, Jenny Matlock, at her blog
off on my tangent
.
The rules of Saturday Centus require that you write a very short story using a supplied prompt, and that the story be no longer than 100 words total not including the prompt. You can't use any vulgarity or pictures with your entry and it can be either fictitious or true. When you are done posting your story, link it to Jenny's meme post so that all of us can check it out and comment on your creativity. Sounds easy enough, right?
This week's prompt, in honor of Halloween is:
"This is the scariest story I've ever heard..."
You know, my problem with writing a Saturday Centus on a Sunday is that by that time all the really great story ideas have already been taken and I have to settle for my backup ideas which admittedly aren't very good.
For example when I thought of my backup ideas for this prompt, it reminded me of the story of when my parents first met in school. Yeah, so what's so scary about that? She was a student and he was her fourth grade teacher. Next!
My next rejected story idea centered on getting stuck in an elevator with an elderly woman who suffered from a condition euphemistically known as "The Vapors" in the South, but is known everywhere else as extreme flatulence. Again, next!
Alas, it is with great trepidation that I reach my germ-ridden hand into my bag of story ideas and drag out one that can hopefully suffice to fill my blog page for the next few days while I recuperate from whatever nastiness (Bolivian Screaming Turtle Syndrome? Projectile Ebola? Mad Chipmunk Disease?) which has ravaged my weak, enfeebled body.
Here is my contribution for this week. I have entitled it:
Beware The Gollywoggle!
"I was walking home through the park from a disco party when I got the feeling I was being followed, but there wasn't anything there. Suddenly I could hear footsteps coming up quickly behind me.
Terrified, I ran as fast as I could in platform shoes. As I raced across the wet field, I slipped and muddied my polyester slacks and rayon shirt.
I looked and there staring back at me was a gollywoggle. That's why I don't go to the park at night anymore."
"Wow, Dad," Bryan said. "This is the scariest story I've ever heard. Seriously, you really wore those clothes in public?"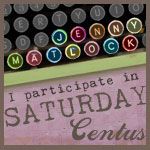 Happy Halloween Everyone!
.
.