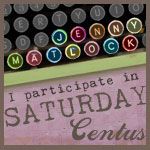 Have you filled out your Saturday Centus?
If you don't want Jenny knocking on your door, you better get on it!
You only have one week to give up your 100 word literary creations. If you don't, well, you might just set off a chain reaction of such cataclysmic proportions that all life on Earth will cease to exist.
Okay, true, it might not happen, but are you willing to take the risk? Tough decision…don't write one and possibly kill every life form, including puppies and kitties and big cuddly belephants (baby elephants), or submit one and be the hero that quite possibly saved the entire human race. You could be famous! You might even get your picture on a lunch box!
Ah, there you go….I knew that was too tempting to resist!
For those of you new to Saturday Centus, and therefore completely baffled at what I am rambling on about, it is a themed writing meme hosted by Jenny Matlock at her blog,
Jenny Matlock ...off on my tangent....
Every Saturday she posts a "prompt," a phrase that must be used in the essays of each contributor.
Each story must contain the prompt as written and be a total of 100 words or less, not including the prompt words. After posting their stories, the writers link up with Jenny's Saturday Centus meme post so that we can all share our treatment on the prompt.
Here is this week's challenging prompt, finely scripted by the illustrious, Mr. Jenny:
It's true, the smell of freshly mowed grass can stay with you for years, for decades,
Here is my take on this week's prompt. I'm calling it:
It had been years since Bryan, Lissa and I had been back home to
Manteca
again.
Memories of soccer and T-ball games, picnics and walks with the beagles flooded back as we strolled the verdant fields and shady pines of Northgate Park, the scene of so much joy growing up.
We laughed and told stories from their childhood and reminisced about the good times here as the gentle Delta breezes carried their funky payload.
It's true, the smell of freshly mowed grass can stay with you for years, for decades,
but so too could the smell of their mother's awful cooking.
"Come on, guys. Let's go to Taco
Bell
."
Just like it was yesterday.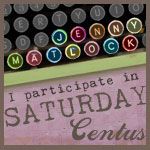 Click on the button and start your own adventure!