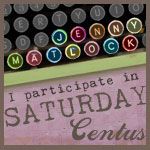 Welcome to my contribution for week 7 of the Saturday Centus, a themed writing meme hosted by Jenny Matlock at her blog,
Jenny Matlock ...off on my tangent...
. Every Saturday she posts a "prompt," a phrase that must be used in the essays of each contributor. Each story must contain the prompt as written and be a total of 100 words or less, not including the prompt words. After posting their stories, the writers link up with Jenny's Saturday Centus meme post so that we can all share our treatment on the prompt.
For this week's Saturday Centus, I was again put in the unenviable position of editing my story down to a paltry 100 words plus the prompt. To me, my words are those thoughts that I gave life to, my babies in a sense, so trimming them from the story, or "chopping my babies" as I sometimes refer to it, is an emotional experience.
I love my babies just the way they are, whether they are 167 words or 191 words, and though it's required that I gut them regularly to get to the correct word count for this meme, I weep for all the chopped up baby parts that didn't make the final cut. Someday I'm going to have to reassemble my babies in their word-rich original format so that they can once again dance in the fluid fields of verbosity.
But I digress.
This week's prompt was appropriately focused on the Father's Day holiday by that prince of prompts, Mr. Jenny! Here is this week's prompt.
It was Fathers Day, 1984, when I heard that voice in the hallway...
And here is my
chopped baby version
greatly abridged take on it which I've entitled:
A Father's Day To Remember
It was Fathers Day, 1984, when I heard that voice in the hallway...
It was my brother Jimmy crying on the phone.
"He doesn't know about dad yet and I'm not telling him. Why? How do you tell someone that his life will never, ever be the same? You do it, Mark. He trusts you."
Dreadful images of pain and loss flashed before my eyes, paralyzing me with such profound grief.
It would be two hours before I heard him knock on the door…two hours of tearful moans of deep despair.
"Jeff, open up it's me, Mark!"
Slowly the door opened revealing Mark's big smiling face.
"Dude, dad won the lottery! We're rich!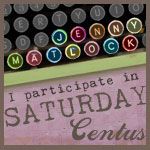 Come on and join in the baby chopping fun.
You know you want to...