.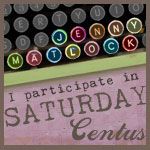 One hundred and one weeks of Saturday Centus!
That is a lot of weeks of mini-fiction!
This week our Miss Jenny has thrown us another one of her famous literary curve balls.
As regular followers of this meme (aka Centusians) are well familiar, our illustrious teacher, Ms. Jenny Matlock of her blog off on my tangent, often challenges us by inviting us to either write stories and poems using photos as prompts or giving us a tiny word count.
This week she did both.
Thank you Jenny! My brain needed a good flush of creativity after all the crud that it has been processing lately!
Our assignment this week is to create some type of creative literary piece using the following photo:
and 25 words of text. The theme of this weeks meme challenge is "Greeting card innards."
Here is my short but sweet holiday offering for this week. I have entitled it:
Frustrated Hallmark Writer Poetry
While a dog on a card can be a "flaw-wah"
With a holiday greeting composed,
Remember nothing rhymes with Chihuahua
So just be happy with prose.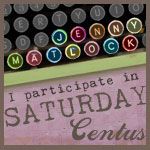 I just bought a Chihuahua. It's the dog for lazy people. You don't have to walk it. Just hold it out the window and squeeze.


.