Hello to my bloggy friends and to fans of my short (somewhat twisted) fiction.
I am back once again to try my hand at another of Jenny Matlock's 100 word writing challenges. You all know Ms. Jenny, right? She's the reigning queen of succinct story writing with her popular ongoing meme, Saturday Centus. This is week 107, so if you missed any you can go catch up here at her blog "off on my tangent."
In lieu of a supplied phrase as a prompt this week Jenny has given us this photo from which to base our 100-word stories and poems. Admittedly mine is a bit dark and macabre, even for me, but this doesn't necessarily mean I'm going to go shoot up a Walmart or anything.
Well, not today anyway. I've got too much homework.
And in response to your inevitable question, no, I don't know where these weird ideas come from. Just be thankful that I don't live in your town.
Here is my submission for this week's Saturday Centus. I have entitled it:
Smoke rose from the Hundred Acre Wood as flames pranced about the forest like blazing nymphs chasing the wind. The acrid stench of death hung heavy in the air, mixed with smoke and gasoline.
He thought about Rabbit, Owl, Piglet, Christopher Robin and the rest. They were all dead, of course. He heard their tortured screams for help as they tried to escape, but they never had a chance. The fire surrounded them, its flickering fingers reaching out to them in a fiery
embrace.
In Pooh's eyes the glow of the fire raged on and had infected his soul.
He couldn't wait to start another.
With profoundest apologies to A. A. Milne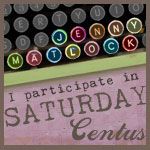 It is more fun to talk with someone who doesn't use long, difficult words but rather short, easy words like "What about lunch?"