.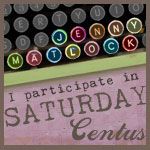 Welcome back lunatics, Centusians and various weirdniks of every persuasion to another of my weekly contributions to Saturday Centus, that indescribably fun writing meme hosted by Ms. Jenny Matlock (yes, THE Ms. Jenny Matlock) of "
off on my tangent
" blog fame.
For those of you following along each week, this is week #49 of this challenging writing meme which is about writing short, short, tiny little stories that you can read on the toilet in less time than it takes to get the paper off the roll unless you use a lot of paper, in which case a different analogy would be better.
What? Not everyone brings their computers with them when they go to the bathroom? How bizarre! That's like not making toast while you are taking a bath. You're missing out on one of life's simple pleasures if you don't! Just saying!
Anyway, Ms. Jenny has given us a wonderful little phrase, or prompt as we like to call it, to base our teeny-tiny, itty-bitty stories on this week. Borrowing from an old Al Jolson refrain, this week's prompt is "April showers bring May flowers..." As usual I am adding my 100 words to the prompt and concocting something twisted to entertain you and try to make you go "huh?" which as we all know is the goal of any writer living at my house.
Given the bizarre political climate of late I feel compelled to use this forum to blow off a little steam. I apologize in advance to anyone who takes offense. For those that do, just have a Democrat explain it to you and you will feel better. No worries.
I have entitled this eentsy-weentsy bit of subversive literature:
When It Rains, It Kills
(Sometime in the near future)
He awoke to another bleak, rainy morning. The traffic report blared over his clock radio before switching back to news.
News. More like lies and propaganda.
He laughed at the thought of it still being called news. Ever since the Republican Party, backed by corporate interests, had seized control of the country and handed it over to wealthy industrialists, life hadn't been the same.
Power and greed ruled.
Coal plants burned with no environmental regulations at all releasing toxins which poisoned lakes and streams and killed vegetation.
Pollution and acid rain prevailed.
"April showers bring May flowers?" Not anymore.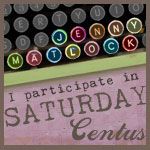 April showers bring May flowers…but Mayflowers bring Pilgrims
.