.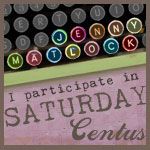 Well it's here boys and girls, week 50 of Saturday Centus! This is the week we've all been waiting for with great anticipation because we knew that 50 weeks of short story writing was just too amazing to let go by without our lovely and charming teacher recognizing it in some fashion.
And rightfully so! This isn't some ho-hum observance that doesn't mean anything like National Tweed Day or National Hernia Awareness Month, or for that matter, Tax Day for large corporations. No, this is a celebration of writing well over one thousand tiny little stories, enough words to fill four or five good-sized novels!
In honor of this most special occasion, our most special host, Ms. Jenny Matlock of her blog off on my tangent has given us a most special assignment this week. (And no, it's not repeating "most special" as many times as you can, but thank you for playing.) This week we are to pick a Saturday Centus story from last week and do a 100-word review of it.
Now that's interesting! I've never done a review before and with such a great crop of stories to pick from with last week's "April Showers Bring May Flowers" prompt, it is going to be fun to give it a try.
I've chosen to review the story "Sunbeams" from Claudia at her blog, Claudia's Page because I enjoyed the piece and love her writing style. I will reprint her story below and include my 100-word review after it.
Sunbeams
Jillian watched raindrops ramble down the window and felt as gray as the cloud-cluttered sky. Winter had been grueling with heavy snows, Ren's cut in work hours, and the colicky baby.
Aunt Tillie would have some wit to stamp out the depression she was sure. She was always spouting things like "stitch in time", "eggs in one basket" and such. Oh yeah, she'd say,

"April showers bring May flowers".

Well, Jillian thought, I wish something would bloom in my life.
Then she noticed a purple crocus in the yard, heard laughter coming from the crib, and felt mental sunbeams.
And here is my review of "Sunbeams" by Claudia:
Claudia's latest Saturday Centus, "Sunbeams" demonstrates once again her amazing writing talents and how hers is inescapably the soul of an artist, sculpting stories from slabs of literary marble into the perfect and beautiful pieces of art that they are.
Her story paints a visual portrait of a woman lost in melancholy by life's circumstances. As she wishes for relief from her sadness, she spots a flower poking through the ground and hears her baby laugh, metaphors for renewal or a new beginning possibly, and feels "mental sunbeams."
A lovely turn of phrase for a wonderful, hopeful tale.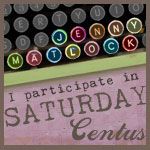 I'm a godmother, that's a great thing to be, a godmother.
She calls me god for short, that's cute, I taught her that.
- Ellen DeGeneres
.