.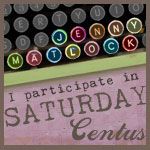 Well, it's time once again for my usual foray into the really short, short story writing genre made famous as Saturday Centus, a themed writing meme hosted by Jenny Matlock at her blog,
Jenny Matlock ...off on my tangent....
Just for me this week, Jenny designed a very special Saturday Centus which promises to be both challenging and entertaining for all of us! Oh Jenny, Jenny, Jenny! For me? You shouldn't have! But I'm glad you did, even if that sentiment isn't shared by everyone! LOL!
Once again you force us to step out of our comfort zone and give us that shove into the creative unknown as all great teachers do. In recognition of it being the tenth week of Saturday Centus, Jenny has decided to throw us a curveball and shake things up with a bolder and more difficult writing assignment.
For this week's Centus, our instructions are to write our stories in the genre of a Harlequin Romance novel! Can't you just smell the lusty passion oozing out in wafting plumes of ecstacy?
Oh wait. Sorry, that was just me.
To make sure to have enough space for necessary words like "steamy," "nape," "slippery," and "trembling," Jenny has graciously offered up another 100 more words to play with! For those of you with poor math skills (or who bother to keep count), that's 200 words TOTAL plus the prompt.
For you newbies to this meme, every Saturday Jen-Jen (yeah, I call her that) posts a "prompt," a phrase that must be used in the essays of each contributor. Each story must contain the prompt as written and be a total of 100 words or less, not including the prompt words (and yes, even the small words like "and," "the," and "it" count!)
After posting their stories, the writers link up with Jenny's Saturday Centus meme post so that we can all share our treatment on the prompt. And sometimes we get together to drink mulled wine, relax in a hot tub, give each other massages and talk about our feelings. What? You've never done that with us? Hmmm. I can't imagine why you weren't invited. Perhaps you should ask Jenny about that.
As added motivation, this week's Saturday Centus participants will be entered into a special prize drawing with the winner receiving the book "The Wishing Years" by fellow blogger Coralie Cederna Johnson. Jenny describes the book as a "a wonderful journey to small-town USA in the 40's and 50's." The book is not a romance and as such contains no references to "rippling biceps" or "heaving bosoms" (or even "rippling bosoms," if you are so inclined.)
"Come on and participate in Saturday Centus," Tom said, beckoning with his smoldering brown eyes as he lunged forward in his taut tighty-whiteys which left nothing to the imagination. (I know, I know...I'm burning in hell.)
Without further adieu, here is Jenny's super-special Shake Up! prompt for this week:
"When I turned around I was startled to meet a green eyed gaze..."
Here is my "Harlequinized" contribution for this week. Please be merciful and forgiving in your comments.
It is entitled:
A Whiff of Passion
Sitting at the bar, I didn't see him at first. It was his deep baritone voice that attracted me.
"Hey barkeep, you got something for a lonely rich guy that will warm his body like a woman would?"
When I turned around I was startled to meet a green eyed gaze…
it was a shared "moment" and we both knew it.
"Well hello there, sweet thing. What's your name?"
That sexy voice and those dreamy eyes! I wanted to rip his clothes off then and there, but there were laws against that sort of thing.
"My name is Jenna. What's yours?"
"I'm Dustin. Nice meeting you, Jenna. Can I get you something?"
"Sure! How about you buy me a new car?"
He laughed and asked me what color. I told him to make it an iridescent green to match his eyes.
"To be honest, I only said the rich guy comment so women would talk to me."
"Does it work?"
"So far so good! Why is a pretty thing like you here alone?
"I have chronic body odor. Guys hate that. Doesn't it bother you too?"
"Hmmm. No, I had a car accident years ago. I lost my sense of smell."
At last my dreams had come true.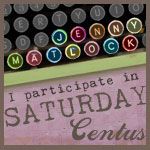 .