.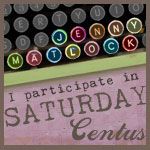 This is my entry for week 156 of Saturday Centus, the literary brain-child of Ms. Jenny Matlock, bloggess extraordinaire and scintillating host of her blog off on my tangent.
The instructions for this week's challenging meme are simply to take the supplied prompt, in this case, "Dear John," plus an additional 100 words maximum of your own choosing (that's 102 words total for those of you that were keeping score) and use them together to create a letter beginning with the prompt.
What can I say? I couldn't resist the chance to ply these waters once again. I'm just a romantic at heart I guess. I have entitled this week's effort:
Together We Can't Lose
Dear John,
I know it's been years since we were together, but the past doesn't matter.
I need you by my side again.
Even though no other self-respecting conservatives were willing to align themselves with me for fear of destroying what little credibility they may still have (I know, because I asked them all) I know that you, John, are not concerned about such silliness.
We have a winning chemistry that can't be denied.
So what do you say, John? Let's do it again! Palin/McCain in 2016!
Together We Are Unstoppable
"The tea party nation announced last week that Sarah Palin will headline what is being called the first national tea party convention in February. It is expected to be the nation's largest ever gathering of misspelled signs."

–Seth Meyers

"Federal taxes last year went down for 98 percent of people, but when asked about this, only 12 percent of the Teabaggers thought this was the case. 88 percent of them had it wrong. And a spokesman for the Teabaggers said, 'We don't want to just be taxed less. We want to be taxed less by a white guy."

–Bill Maher