.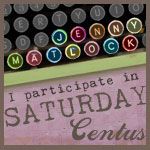 Centusians assemble!
It's time once again for that weekly creative writing exercise known as Saturday Centus. This is the seventy-sixth week of this fun and challenging literary meme hosted by the incomparable Ms. Jenny Matlock of her blog, off on my tangent.
While we
are
normally given a text prompt from which to base our stories upon, this week Ms. Jenny has given us a photo instead. In addition to the usual 100 word limit, we are also tasked with using a literary device, Sensory Details, in creating our stories.
This means that we are to incorporate the senses of touch, hearing, smell, taste and sight in relation to the image in concocting our stories and poems. Sound easy? Well let's see you try writing one then!
After writing our stories we post them to Jenny's meme post so we can all share our takes on this week's assignment.
This is my submission for this week's Saturday Centus challenge. I have entitled it:
A Little Piece of Heaven
Klamath Falls was a far cry from the din of urban life Marv and Sharon had been used to, but living in harmony with nature in an old forest cabin had always been their dream.
Marv loved the feeling of twigs and leaves crackling under his feet and the fresh scent of damp earth mingled with the wet bark of the pine forest.
Much like the aroma of Sharon's delicious homemade bread baking in the cabin's hearth oven and served up warm with a bowl of her famous beef stew.
"Now this is heaven" Marv grinned happily.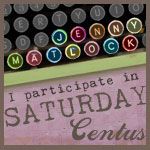 "Life's tough, it's even tougher if you're stupid."
- John Wayne
.