.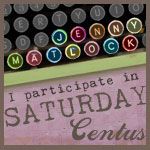 It's time for another submission to Monday Saturday Centus! This is week 71 of this delightfully challenging literary meme hosted by that tremendously talented and whimsical blogger extraordinaire, Jenny Matlock, of her blog off on my tangent. I'm a little late, but I have an excuse from my mom, so it's okay. See….
"Please excuse Tom for being late with his Centus. He's a bit of a nincompoop.
Actually, this week I churned out my usual flippant Centus piece but had second thoughts about posting it given the somber proceedings taking place across the country in recognition of the tenth anniversary of the 9/11 attacks. So I went back to the drawing board (which looks surprisingly like a laptop) and wrote something a bit more serious to show respect for those lost and the loved ones they left behind.
Don't worry though. I'm sure next week I will be back to writing the dopey, silly, wacky ramblings of a depraved mind that is my typical fashion.
For those of you new to Saturday Centus, where the hell ya' been? The rules to this meme are simple and few. Jenny gives us a short phrase or prompt which we have to incorporate just as it is written in a story or poem. The challenge is that we only have (usually) 100 words plus the prompt with which to complete the assignment.
One hundred words is not a lot of words to develop a story, which is why word choice becomes so important and why we have to tearfully edit our stories down like good little Centusians to hit the proper word count. The other rules include no vulgarity and no pictures unless permission is granted by Jenny to include one. Did I leave anything out, Centusians?
If you haven't tried writing one of these yet you need to! It will change your life forever and invariably lead to world peace and universal harmony. If you don't…well, we'll just have to find you wherever you are hiding and beat you to a bloody pulp give you a very stern look of disappointment. Be warned!
This week's prompt is "

Mother may I

," an interesting jumping off point for any writing project to be sure. Please click on Jenny's button and read all the other entries this week to see where this week's crop of writers took the prompt! We have a lot of really creative folks each and every week and you will undoubtedly enjoy the literary journeys they take you on!
Here is my submission for this week's Saturday Centus. Once again I'm having a go at writing in verse. I have entitled it:
Mother may I chat with thee?
Through this dream I set you free.
It's been ten years since that fateful day
when thousands of lives were snatched away.
Horror filled the airways then,
while our nation did cry and moan.
Such cowardly acts by evil men,
villains with hearts of stone.
From afar I've felt your fears.
Let this news now soothe your soul
The time has come to dry your tears.
Your appointed guardian is my role
Smile and know I'm with you now
until your days are done.
Peace and joy I bring to you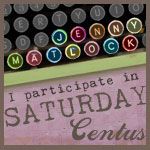 "Even the smallest act of service, the simplest act of kindness, is a way to honor those we lost, a way to reclaim that spirit of unity that followed 9/11."