.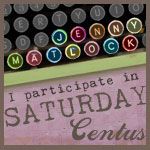 I'm back again to participate in Jenny Matlock's fun and challenging writing meme, Saturday Centus! For week #72, our wonderful Miss Jenny has really raised the bar by assigning us a very challenging and unique task. We are charged with creating a song lyric to the tune of "Twinkle, Twinkle, Little Star" using the prompt "
In the Autumn
."
Oh but wait, there's more! We have to write this week's rhyming lyrical Centus using no more than 32 words total including the prompt! Yes, not even the usual 100 words! That Jenny is an evil genius! How does she come up with these awesome challenges? What fun!
Make sure and stop by Jenny's blog, "
off on my tangent
" to read all the other entries this week and share some bloggy love! And speaking of love I have dedicated this week's post to my sweet wife, Teresa. I have entitled this week's post:
For My Wife
In the Autumn of my life,
Glad you are my darling wife.
You indulge my silly ways
Like it was a childish phase.
Happy, laughing all the time
Loving you is so sublime.


*And don't think that I am fishing for some token of appreciation from my wife for writing this in her honor. That would be just crass. However if you would like to offer her any suggestions on how I should be rewarded, feel free to do so below. -- TG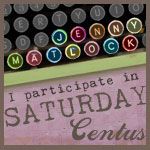 "No man is truly married until he understands every word his wife is NOT saying."
- Unknown