.
Well I'm back again to stretch my mental muscle for this, the 19
th
week of Saturday Centus. For those of you who still don't know what Saturday Centus is (and if you don't by now you must be either living in a cave somewhere in the Antarctic cut off from any communication with intelligent society or are living in Alabama) it is a themed writing meme forged from the endlessly fertile and creative mind of Jenny Matlock at her blog,
off on my tangent
.
In brief, the rules are that participants have to write a really tiny short story, or paragraph, or blurb if you will, of 100 words or less using a supplied prompt. This prompt, which can be a sentence or phrase, must be used in its original form anywhere within the story and does not count toward the total 100 word limit. The only other rules are no pictures and no vulgarity. Once written, the stories are linked up to Jenny's meme post so that we can all share our inspired literary inventions with one another.
As a somber tribute in honor of those fallen heroes of the September 11th terrorist attack and the great sacrifices they and their families have made, this week Jenny has decided to muster our clever collection of wordsmiths and tasked us to write our narratives about this mournful occasion. She has allowed us to include a picture to accompany our stories as well.

Obviously such a solemn task precludes the use of any of my typical humorous devices, so I will put aside my snarky ways until next time and give this subject the respect it is due.
This week's prompt is:
I stood frozen in front of the flickering images on my TV
Here is my contribution to this week's Saturday Centus. I have entitled it:
The Death of Innocence
September 11, 2001 will forever be etched into our collective consciousness as the day America suffered its harshest blow as Muslim extremists attacked, killing almost 3,000 men, women and children.
Like many others that day, I stood frozen in front of the flickering images on my TV as the unimaginable horror and chaos of those scenes and the videos of the plane crashes preceding it stunned the world and changed it forever.
Gone were our safe, carefree lives, a casualty of sinister ideologues.
Nine years later, the memories of that tragic day persist in the fearful eyes of our children as they face an uncertain future.
That is their sad legacy.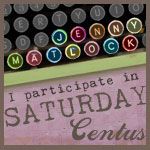 Entertaining readers with ADD since May, 2010!
.