This is my entry for week 159 of Jenny Matlock's Saturday Centus, the itty bitty story writing meme celebrated by writers worldwide.
I'm a little late to the party this week because I was out of town visiting my mom this last weekend, but fans of Jenny's blog "off on my tangent" know that Jenny has a heart of gold and will always allow extra time for us late-posting stragglers to play along.
The rules of this meme are to write a short story or poem with only 100 words plus the words from the supplied prompt. This week the prompt is "you put the lime in the coconut," which is part of the lyrics of the song "Coconut" by Harry Nilsson, an old favorite of mine from the early seventies.
After crafting your tiny 107-word masterpiece you then post it to Jenny's blog so that other Centusians can delight in your creativity and clever word skills.
From behind the bar Duncan eyed the rows of bottles of liquors, mixers, liqueurs, and fruit juices and wondered out loud which ingredients to use.
"Hmmm…let's see Duncan…something tropical with a coconut would be good for presentation.
"Blend Malibu rum and coconut cream, cranberry juice, strawberries, bananas, vanilla ice cream, and blue curacao.
"Hmmm…needs something. Lime zest! Yes, you put the lime in the coconut, then add a splash of 7-up and ring with toasted shredded coconut.
"Nope, this still isn't unique enough. I know what I need, pickle juice!
"Voila! The Wacky Wahine!"
The Mixologist trophy would not elude him again.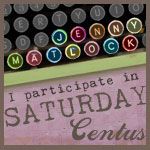 Without question, the greatest invention in the history of mankind is beer.
Oh, I grant you that the wheel was also a fine invention, but the wheel does not go nearly as well with pizza.