.
Well it has been some time since I participated in Saturday Centus, this wonderful literary meme hosted by it's equally wonderful host, Jenny Matlock, from her blog, off on my tangent.
This week (week 151!) the prompt is "Thank you Beryl!" and we are to use these three words and another hundred words of our choosing to tell a story. I have entitled this week's effort:
Thank you Beryl! I know you just want to help.

You say life is not always joyful and that pain and sadness are simply part of the equation. At times we may feel discouraged or angry at the hopelessness and emptiness we face.

You say to endure and be strong. Have the same courage shown by soldiers whose bodies have been ravaged by war, victims of violent crime, grim disease or injury.

You say that we all face stressful situations, but that they don't last forever. You say depression is a battle that can be won.

Not this time.

Time to go.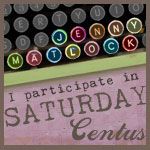 "It was easy enough to kill yourself in a fit of despair. It was easy enough to play the martyr. It was harder to do nothing. To endure your life. To wait."
― Erica Jong, Fear of Flying
.