.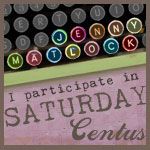 It's that time again…and this time I'm not horribly late as usual!
I'm talking about week 41 of Saturday Centus!
(That's week 287 in dog weeks which, given our prompt this week, is a good way to look at it!)
The host of this amazingly fun and challenging meme, Jenny Matlock from her blog off on my tangent, has thrown us a really fun curve ball this week in honor of Valentine's Day.
Rather than supplying us with a verbal prompt and letting us transform it into a tiny literary masterwork using only 100 words or less, Jenny has given us a photo and a mere 50 words and charged us with writing a Valentine's Day card.
At last an opportunity to show that I too can be a sappy Hallmark card writer and come up with some romantic copy that will send hearts aflutter with desire!
So then, the object of this Valentine's Day card is some hot babe or hunk then right? I mean, Jenny wouldn't further complicate this task by giving us something so patently unromantic that we couldn't transition it to a sweet Valentine's Day card that someone wouldn't love to receive, now would she?
No, of course not! This is why she gave us this adorable photo of a pug wearing a Wonder Woman costume!
Good thing too. I was worried she might give us a photo of flowers or hearts and I wouldn't know what to do.
So look out Hallmark! Your next greeting card writer is ready to hit the ground running as is evident by the following example!
Now go ahead and join us and add "Centusian" to your writing resume! (Publishers really stand up and take notice if you put it there…especially if written in 2" tall letters in red crayon.) After you write your story, link it back to Jenny's meme post so that we can all enjoy your fascinating take on this fun challenge!
Here is my effort for this week. I hope you like it. Be gentle. It's my first time.
I love you for saving my life, as life
without you
would be like dry
kibble, nourishing but without joy.
I love you for loving me as I am, even
with my snoring, wrinkles and
Even a Wonder Woman needs a
hero, and that hero is you!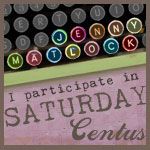 We are all a little weird and life's a little weird, and when we find someone whose weirdness is compatible with ours, we join up with them and fall in mutual weirdness and call it love.